Press
Great news on star sightings and reviews for great food and drinks!
Asian Fusion Artistry is the Name of the Game
The Argonaut provides another great review of our delicious offerings. We live in a world of linguistic mysteries, of products and businesses with foreign names that are sometimes meaningful, sometimes whimsical, sometimes gibberish.
Alejandro Gehry EAT ART Event
EAT ART hosts a reception for Alejandro Gehry from 6:30 to 8 p.m. Monday, Sept. 11, at Wabi Sabi, 1635 Abbot Kinney Blvd., Venice. A ticketed tour featuring the art studios of Gehry, Monica Perez, Gary Palmer and Barbara Lavery ($125) precedes the reception. Call (310) 314-2229 for dinner reservations and visit eatartvenice.com for tour tickets.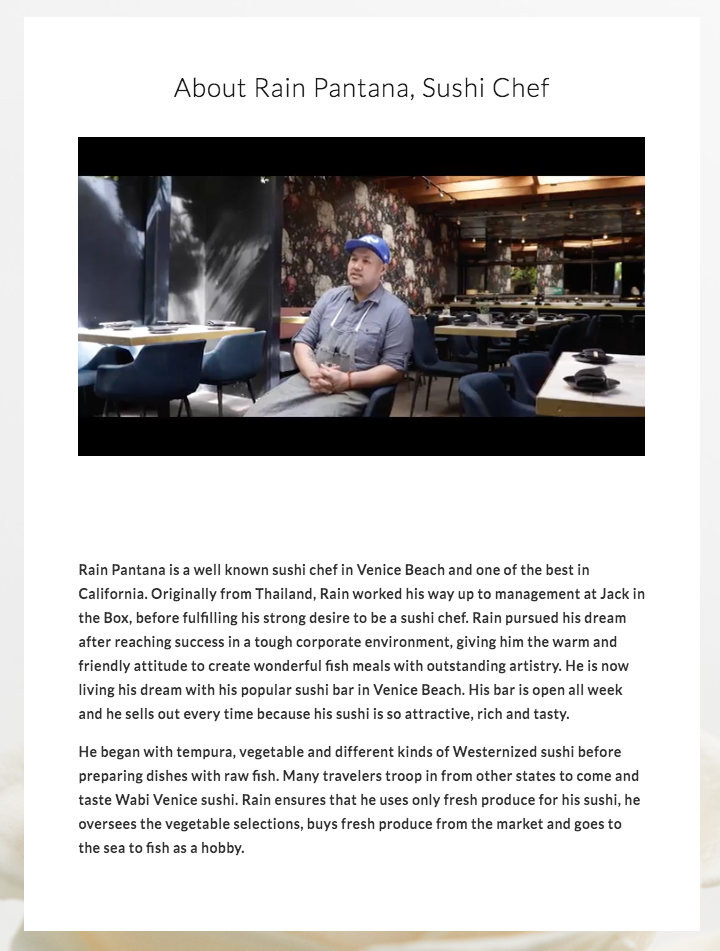 Rain Pantana is a well known sushi chef in Venice Beach and one of the best in California. Originally from Thailand, Rain worked his way up to management at Jack in the Box, before fulfilling his strong desire to be a sushi chef. Rain pursued his dream after reaching success in a tough corporate environment, giving him the warm and friendly attitude to create wonderful fish meals with outstanding artistry.
By Christina Campodonico
Trendy shops and restaurants cashing in on Abbot Kinney Boulevard cool can sometimes feel a little too Rodeo Drive to be real, and the local vibe might get a little lost amid all the tourists and big name brands on the block.
Celebrity Interview: Maria Bello
Curious where the stars shine on the west side? Read up on Maria Bello's favorites:
We often scooter over to Abbot Kinney for popsicles or go to Wabi-Sabi, a great sushi restaurant. Yeah, most of my weekends are spent on Abbot Kinney Boulevard!
 
The reformed menus at this rather gorgeous Venice mainstay gives the place a completely different feel. The food menu feels very much like the vibe-y Japanese food you'd find in West Hollywood, while the wine and cocktail offerings feel updated for 2017. Step in, hang out, drink up, and enjoy.
 
Ray Wicks on Drinks & Cuba
Wabi Sabi spirits expert Ray talks about the wine and spirits at Wabi Sabi Venice. Giving a great review of what the restaurant and bar world is all about. Curious about what's happening with Cuba, here's your review.
 
If you're in need of a spirituous drink that packs a punch yet still manages a subdued floral balance, go for the Adios Tokyo, a name play on the classic booze baths of Tokyo Tea and Adios Motherfu**er, two well-known drinks that will get you well-sauced.
"Mezcal has tones of earth, ash, smoke, wood, dirt, rock, and farm animal," says Ray Wicks, mixologist at Wabi Venice in Los Angeles. (Okay, I know that doesn't make it sound super appealing, but it really is tasty.) Wicks' colleague behind the bar, Conner Mitchell, adds, "Basically, when you drink mezcal, you feel like you're being grounded on the inside. It's an incredible intoxicant."
For years, Venice denizens have likely seen or visited Wabi Sabi along Abbot Kinney, a kind of hip neighborhood sushi joint everyone could get behind. Except in years past, things had gotten a bit stale. Enter Sam Marshall and Tricia Small. Marshal spearheaded the redesign (he's also done Laurel Hardware, Gjelina, and Ollo, among others) while Trisha Small took over ownership of the restaurant about seven months ago, performing a lengthy interior remodel.
Poet James Berkowitz will curate ARTravenous, a celebration of life, art, culture, poetry, and music at the Canal Club, 2025 Pacific Avenue, and Wabi Sabi, at 1635 Abbot Kinney Boulevard, will host the "EAT ART/Before They Go" exhibit by artist Barbara Lavery and photographer Debbie Zeitman.